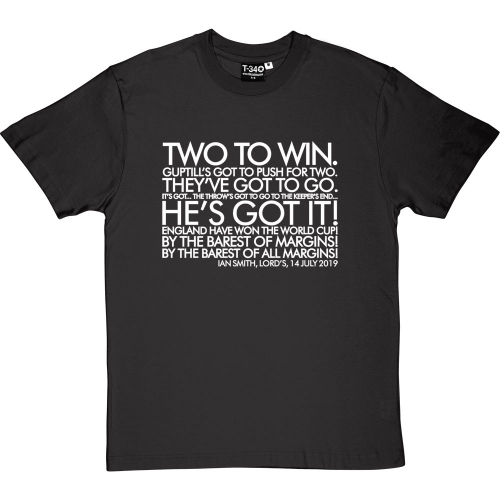 Barest of Margins t-shirt
£25.99
The price is for UK and Overseas price will be higher. For Overseas prices click
here
Europe
£0.00
Rest of the World
£0.00
ICONIC COMMENTARY FROM ENGLAND'S FINEST MOMENT
"Two to win. Guptill's got to push for two. They've got to go. It's got... the throw's got to go to the keeper's end... He's got it! England have won the World Cup! By the barest of margins! By the barest of all margins!"
The unforgettable television commentary by Ian Smith on the dramatic final ball of the 2019 World Cup, where Jason Roy and Jos Buttler succeeded in running-out Martin Guptill to conclude the most incredible game of cricket ever:
Every t-shirt is a a high-quality 190gsm garment available with a dark grey base colour and from small to XXL .
And note that all UK shipping is absolutely free! (
We aim to dispatch within 3-5 working days as each t-shirt is printed to order, and then ship via Royal Mail 48)