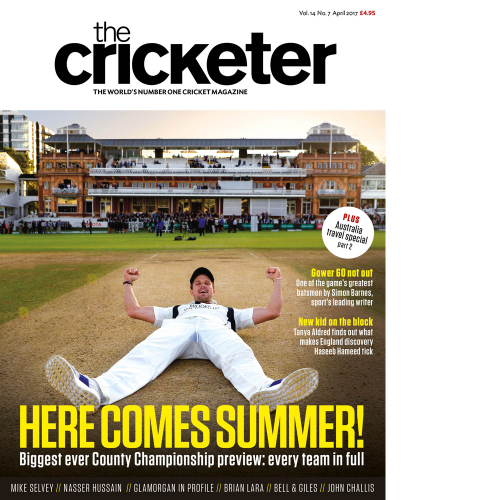 The Cricketer April 2017
Issue 1704
£4.95
The price is for UK and Overseas price will be higher. For Overseas prices click
here
Europe
£8.50
Rest of the World
£9.50
• The April edition contains our popular summer fixture wallchart.
• We have the biggest, most in-depth County Championship team-by-team preview by Mark Baldwin and Richard Gibson.
• David Gower is 60 on April 1. No, that's not a joke. Simon Barnes has written a sublime portrait.
• Barnes also kicks off a new series, 'What If', wondering what might have happened if Shane Warne had caught KP at The Oval in 2005.
• England's great discovery, Haseeb Hameed, is interviewed by Tanya Aldred.
• We get to know Notts and England seamer Jake Ball, who helped The Cricketer with our Village Cup draw at Lord's.
• Ian Bell and Ashley Giles have recreated their alliance at Warwickshire and tell us why they are confident of a fine season.
• Only Fools and Horses star John 'Boycie' Challis tells us why he loves cricket.