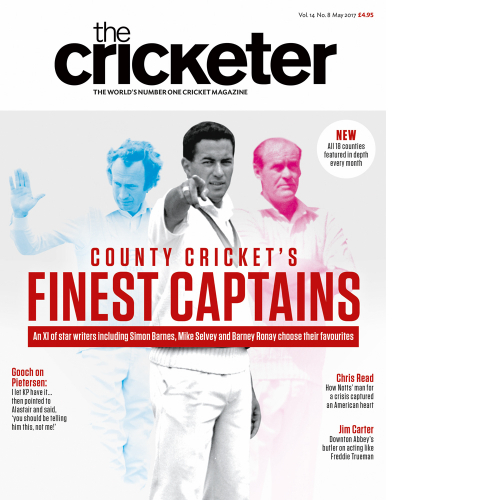 The Cricketer May 2017
Issue 1705
£4.95
The price is for UK and Overseas price will be higher. For Overseas prices click
here
Europe
£8.50
Rest of the World
£9.50
Who is county cricket's finest captain? Simon Barnes, Mike Selvey and Barney Ronay and co nominate their favourites, including Brian Close, Adam Hollioake and Keith Fletcher.
Our revamped county diary section ensures that all 18 first-class counties are covered every month.
In My Favourite, American journalist Erik Petersen – a regular at Trent Bridge – tells us why Chris Read, soon to retire, is the man for a crisis.
Nottinghamshire also feature in this month's County Set.
There is a treat for Downton Abbey fans, as Carson the butler, aka Jim Carter, tells us why he loves cricket.
We have also exclusive interviews with that great '80s duo, Graham Gooch and Allan Lamb.