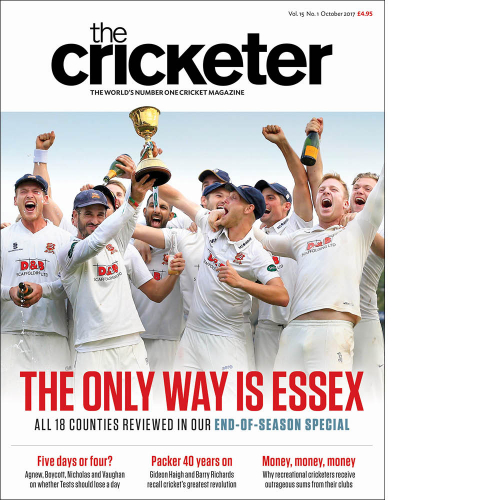 The Cricketer October 2017
Issue 1711
£4.95
The price is for UK and Overseas price will be higher. For Overseas prices click
here
Europe
£8.50
Rest of the World
£9.50
• In a 20-page section, Mark Baldwin, Paul Edwards and Richard Gibson review all the counties' 2017 showings.
• Is shaving a day off Tests a four-gone conclusion? In a star-studded debate, Mark Nicholas, Michael Vaughan, Geoffrey Boycott, Jonathan Agnew, Paul Newman and Gideon Haigh have their say.
• How do you solve a problem like Ben Stokes? Barney Ronay says he should stay at home this winter.
• We also have the inimitable Gideon Haigh and Barry Richards recalling the Packer Revolution, 40 years on…
• Durham are profiled in the County Set; Chris Read talks about life after Notts; and Fabian Cowdrey eulogises Darren Stevens.
• How much!? In our club section, we ask, are recreational cricketers paid too much? Should they paid at all?
• We have three great Mikes – Procter, Selvey and Henderson… plus Ask Nasser, Peter 'the cricket Doctor Who' Davison, Mark Robinson on the Women's Ashes, Sam Billings on keeping and Chris Lewis.