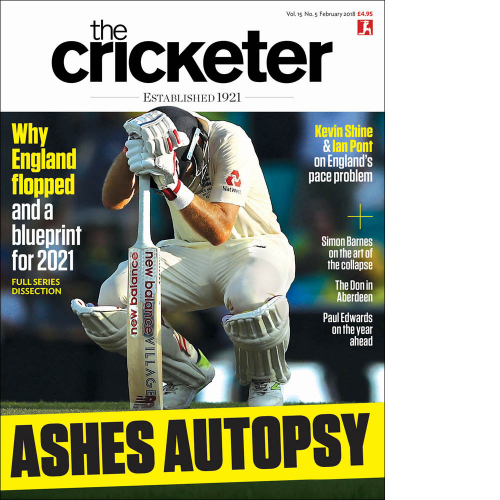 The Cricketer February 2018
Issue 1802
£6.50
The price is for UK and Overseas price will be higher. For Overseas prices click
here
Europe
£8.50
Rest of the World
£9.50
February's Cricketer - 'Ashes autopsy'
• Simon Hughes gives his overview of the series, James Coyne provides his man-for-man assessment and Tanya Aldred writes on what it has been like to follow the series from Blighty.
• Match reports from Dean Wilson, Gideon Haigh and Vic Marks.
• Huw Turbervill interviews Kevin Shine, England's lead fast-bowling coach and writes a blueprint for 2021/22, when we next return to Australia.
• 'My Favourite Cricketer' is by Steve Neal, who wrote the acclaimed Over and Out: Albert Trott – The Man Who Cleared the Lord's Pavilion.
• Neal Foulds, the snooker ace, explains why he loves watching innings-building when he is not building breaks in 'Why I Love Cricket'.
• Coyne tells the story of Don Bradman's last century in Britain – coming in, of all places, Aberdeen.
• Simon Barnes writes exclusively on cricket for us every month, and this time pens a lovely essay on the 'art of the collapse'.
• Former England ace John Lever answers the questions in facing up, asking why we did not have a left-arm quick in Australia.