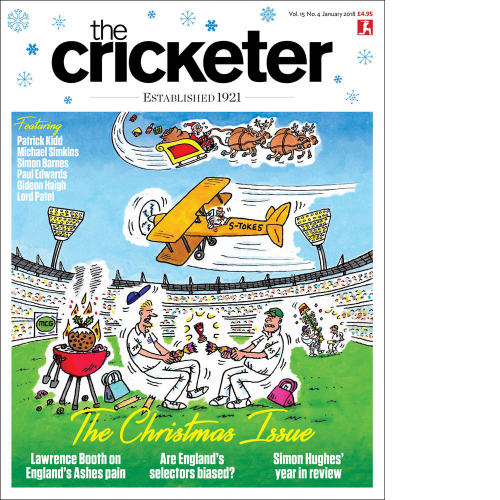 The Cricketer January 2018
Issue 1801
£6.50
The price is for UK and Overseas price will be higher. For Overseas prices click
here
Europe
£8.50
Rest of the World
£9.50
• The Christmas issue (Jan 2018) of The Cricketer provides pivotal holiday reading, and is packed with winter cheer and fun.
• It has a fantastic Ashes cover by Nick Newman, our resident illustrator, with Joe Root and Steve Smith pulling a cracker
• The issue contains wonderful pieces by editor Simon Hughes, Simon Barnes and Paul Edwards to wrap up cricket in 2017.
• We also have a light and merry turn by actor/writer Michael Simkins, who penned the magnificent book, Fatty Batter.
• The Times' Patrick Kidd recalls how politics and cricket have intertwined many times.
• Huw Turbervill speaks to the ECB's Lord Patel. His tale of poverty and racism will leave you awestruck. He says the South Asian community will fully engage with English cricket now.
• We also reveal who you voted for in our readers' awards, and the XI, a special quiz and the Googly are also festively themed.